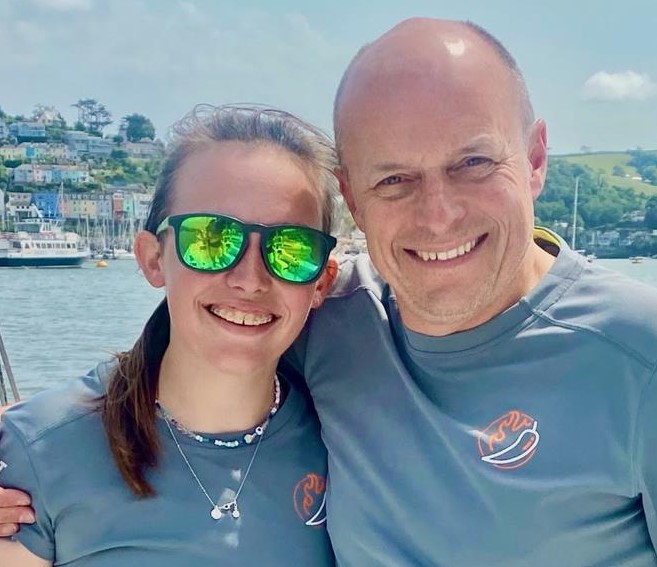 The Morgan Cup is a 115nm race which takes the fleet out of the Solent to the East, around the Isle of Wight and then West to finish at the entrance to Dartmouth.  With a start at 1800hrs we expected the breeze to slowly die overnight before building again around dawn from the North to provide a fast reach to Dartmouth.  The forecast was spot on, and after a good start the fleet compressed as holes appeared in the wind.  By the early hours the whole fleet was drifting in Sandown Bay, using what breeze was available to stem the tide.  A gentle zephyr allowed us and a small group of boats to break free from the main pack and make progress towards St Catherine's Point.  As the forecasted breeze filled in we managed to extend away from the main pack crossing tacks a couple of times with Shirley and Dee on Rockit, another Sunfast 3300.  Separating from the Island we positioned ourselves to the North of Rockit with around a mile separation and started an 8 hour drag race to Dartmouth.

 

Sailing double handed it is more difficult to constantly switch between the Code Zero and a spinnaker so the challenge is to maximise the sail you have up and, where possible, limit the number of changes.  Although separated from Rockit, we were predominantly sailing in the same wind.  We were both using a masthead code zero so it was a great opportunity to experiment with different combinations of stay sail.

As we approached Dartmouth the North / South separation reduced and Rockit established herself around 0.8nm ahead.  With around 6 miles to run we decided that our only option was to switch to the A4 and try something different from Rockit.  Shortly after the wind picked up from 18kts to mid 20's and veered slightly allowing us to power up the A4 with a TWA of around 120 degrees.  Our average speed jumped from 12Kts to 16Kts with the occasional surf into 18Kts.  As we charged towards Dartmouth the AIS showed the gap was reducing slowly.  Allowing for the difference in rating we had to close to around 3 minutes behind Rockit to secure the place which, in reality, meant cutting the distance down to around 0.3nm.  

 

Rounding the last mark just short of the finish we dropped the kite and had a mare with the Jib that decided to slip off the winch and fly like a banner from the forestay.  Wasting precious time grappling with the Jib we eventually crossed the finish line a few minutes later.  We felt confident that we had secured at least a second in IRC 2 and Double Handed, until we had a call from RORC a few minutes later to say that we had secured the win - not just in IRC 2 and Double Handed but for IRC overall.  A special result particularly glad to have been able to share it with Dad.